"Onstage as on record, Merle Monroe exudes positivity and optimism. Taut harmonies project songs with stories that catch in the craw and won't let go.  They're unforgettable, the fellows branded as Merle Monroe." ~ Tom Netherland, Bristol News, The Herald Courier
"I thank you  (Merle Monroe) for keeping the high standards for bluegrass and music business standard overall…I appreciate you for all you stand for." ~ Kyle Cantrell - Sirius XM Bluegrass Junction 
"Back to the Country is a great Bluegrass sound. Daniel's playing is impeccable and the vocals are strong and clean. The album is a great mix of old-time Bluegrass all freshened up with a new sound. "  ~ Joe Bonsall, The Oak Ridge Boys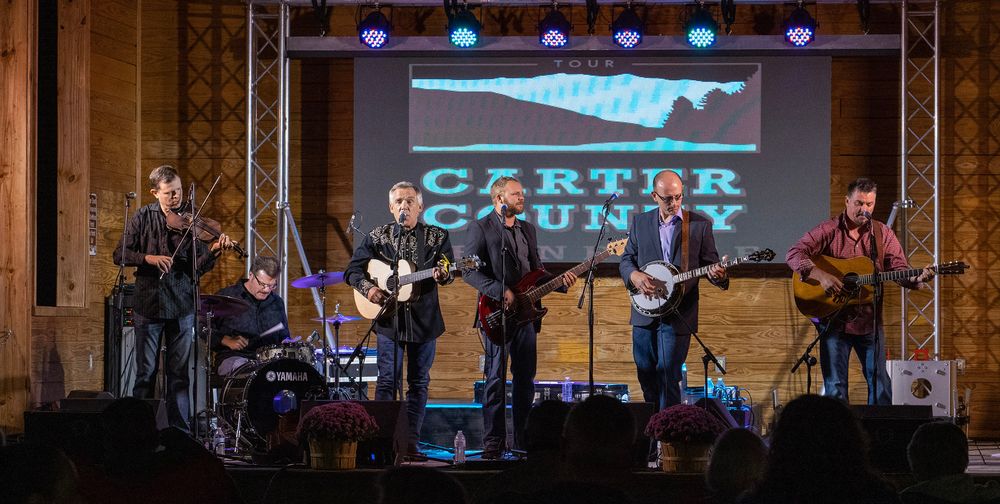 Pinecastle recording artists Merle Monroe is a band created by musicians Tim Raybon and Daniel Grindstaff.  Using their collective experiences as professionals in the music business - Merle Monroe's  sound is vocally driven and has a mix of hard-driving Bill Monroe - style Bluegrass proficiency all the way to a tear at your heartstrings Merle Haggard style ballad. Merle Monroe believes Bluegrass, Gospel and Traditional Country music is America's music - the stories of the common man and the sounds of the mountains.    
"American Music- the Carter Family, Bill Monroe, the Osborne Brothers, Jim and Jesse, Merle Haggard, Roger Miller, Flatt & Scruggs, and many others - the sounds of the great pioneers was our inspiration to record this album and form this band. Respectfully, we do our part to create something new, yet reflective of our hero's influences and carry the torch with every song we write and sing. Our goal is to choose songs that relate to everyday life and go "back to the country".  Be that with heartfelt vocals, a ballad, a hard driving banjo, or an upbeat song that takes your mind away from today's current distractions, we have worked extremely hard looking for and writing songs we feel are different enough, yet reflective of our heroes' music from years past." ~ Daniel and Tim
SONGS OF A SIMPLE LIFE, released June 4, 2021 is the second installment from Merle Monroe's Tim Raybon and Daniel Grindstaff. 
SONGS OF A SIMPLE LIFE features 7 new songs written by Tim Raybon, and 5 Country and Bluegrass classics.  A continuing theme from their first number one Country/Alternative and Bluegrass project, "Back To The Country", SONGS OF A SIMPLE LIFE pays homage to heroes while bringing a fresh original American Country / Bluegrass sound that is recognized as Merle Monroe.